They Might Be Children. (A half-assed review of They Might Be Giants concert, Feb. 19, Swarthmore College.)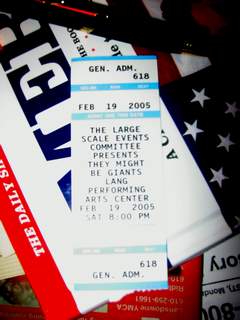 The missus and I were fortunate to have (free!) tickets to the They Might Be Giants show at the College last night. And a babysitter to boot. (Thanks, Tito Guitar!)
Me: They're doing a lot of stuff from the kids' albums.
Wifey: What's the difference between their kids' music and their other stuff?
Me: Good point.
TMBG have been stuck with the "geek rock" label forever. While there's certainly some truth to the generalization, I think their later-developed connection to off-beat children's music is come by honestly and touches on the continued engine of their popularity.
The Johns Linnell and Flansburgh are endlessly committed to their playful imaginations. When contemplating a bad breakup, a societal woe, or even their own mortality, they'll always show you a silly or outlandish take on the situation. They skirt the boundary of being a novelty act without crossing over. In the end, the meta-message, if there is one, is that imagination, play, and humor make life more interesting, and make the bad stuff a lot more tolerable. It's feelgood music, but not trite. It's just too damn weird to be called trite.

The program for the evening was definitely tilted to the most recent several albums, as would be expected. If you're a fan of the first children's album,

No!,

it was a motherlode, as it seemed like half the album was performed during the evening. There were a few tunes from

Flood

, (my least favorite album), but only "James K. Polk" appeared from my favorite effort, 1994's

John Henry

. The first two albums were only represented by "Ana Ng." Of course, the majority of the audience was in preschool when I was jamming to their debut album, so it's probably wise to let the older material age gracefully in the cellar. (It was a little alarming to realize that it was 15 years ago that I saw the duo perform a concert at Haverford College.) [Sigh.]

Flansburgh has great comic timing as he emcees the performance. Although he let the schtick go on a little too long once or twice, he had a nice way of interacting with the audience and informally sharing anecdotes about the music. The musical performances were steady and enjoyable. TMBG doesn't trick up their songs for live performance, so you get to hear things mostly as you expect them. They sing well; they play well; if you like the songs they played, you left happy. There was one little guitar-tuning glitch that made things a little crunchy during "Cyclops Rock," I believe, but I was thankful that it was cleared up by the next song.

I can't believe they closed out on "Fingertips." It's an interesting track to listen to in the privacy of your home, but boy is it a weird concert experience. Being thrown around by the constantly-switching etudes, the tempo is constantly going up-down-up-down. I would prefer to not end on such an experimental note, but that's TMBG for you.

One other thing. Flansburgh referred to the new children's record as "product," meaning something to which they had no emotional attachment. He immediately recanted and jokingly warned us that he'd better not read that tomorrow on our blogs. Hehe. For what it's worth, I thought "Alphabet of Nations" was a great little number that worked well on the stage. I'm sure the project will do quite well for them.

The set list, in case you're terribly interested, went like this:
Clap Your Hands
Experimental Film
Istanbul
Cyclops Rock
Bastard Wants to Hit Me
Alphabet of Nations
Doctor Worm
Drink
Particle Man
Stalk of Wheat
Robot Parade
Birdhouse in Your Soul
Older
Damn Good Times
Trees (Dallas venue song) (With a freaking LONG introduction for a 45-second tune)
James K. Polk
John Lee, Supertaster
Ana Ng
thank you for coming to the show

The Guitar
Violin (first encore)
Twisting (first encore)
Why Does the Sun Shine? (second encore)
Fingertips (second encore)

The opening act was Common Rotation. I'd never heard them before, but I knew of them loosely by virtue of their lead singer having been a notable character (Warren) on the beloved

Buffy

series. I had low, low expectations going in, and since the show started almost an hour late, I was just hoping they'd be quick. They were really good, though, and I'm probably going to track down some of their stuff. They're very much in the vein of TMBG, but more sardonic philosophically, and more folk & gospel influenced musically. If you ever have a chance to hear them, based on the one short set I heard, I'd suggest checking them out.